Reentry Services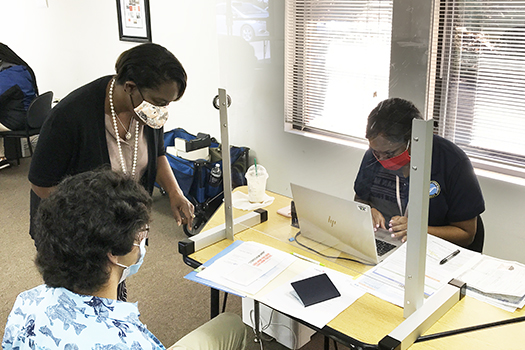 DJJ's Reentry Unit provides reentry services to juvenile offenders returning to the community from commitment. Productive reentry is a seamless combination of services and resources that remove barriers to educate and prepare youth to succeed as contributing members of society.
Planning for reentry begins when a youth is committed to DJJ with the collaborative efforts of DJJ staff, the community and the youth's family. To create a seamless transition, we implement numerous programs and activities designed to improve outcomes for youth upon return to the community. Reentry Advocates, who are assigned by region, connect youth and their families to employment and vocational services in the community.
Reentry Advocates
The Reentry Advocates are assigned to youth, by region, to bridge the gap between residential and community and to ensure youth are provided with support and resources to become productive members of their communities. For assistance with Medicaid and other benefits, employment and career planning/training, housing options, or other services to be successful in the community, please contact your Reentry Advocate.
Western Region – Jarrod Davis
jarrod.javis@djj.virginia.gov (804) 338-1053
(CSUs: 21, 22, 23, 27, 28, 29, 30)
Eastern Region – VACANT
(CSUs: 1, 2, 2A, 3, 4, 5, 7, 8)
Northern Region – George Peoples
george.peoples@djj.virginia.gov (804) 337-8337
(CSUs: 17, 18, 19, 20, 26, 31)
Workforce Development Program
As Virginia Department of Juvenile Justice (DJJ) continues its evidence-based service provision transformation process, it developed as one of its core strategic goals, the commitment to "expand reentry vocational programs, workforce development, and mentoring to provide resources to encourage a positive path of returning to the community" for the youth under its care.
Central to this reentry goal is the Workforce Development Initiative (WDI). WDI led to the establishment of the Workforce Development Center (WDC) at the Bon Air Juvenile Correctional Center (JCC) and the Community Engagement Business Development complimentary tracks. Along with already existing community-based reentry programming activities, the Workforce Development Center provides the youth at Bon Air JCC high quality workplace readiness skills (WRS) course and will coordinate other industry-standard trade programs in electrical, HVAC, and Plumbing.
Additionally, DJJ optimizes resource utilization by actively leveraging services of other identified reentry stakeholders through its Community Engagement Business Development efforts. The Workforce Development Initiative and the complimentary community engagement and business development activities are designed to provide the youth quality continuing education and trainings; trade credentialing and certifications; apprenticeship and on the job trainings (OJTs); wraparound assistive programs; and ultimately gainful employment opportunities.
All these efforts are designed to empower the youth under DJJ care with the tools to rediscover their deferred dreams, rebuild their lives, and ultimately achieve successful returning citizenship.
Additional Reentry Services
Other services offered by the Reentry Unit include:
DMV Testing Centers -- DJJ partners with the Department of Motor Vehicles (DMV) to establish a remote testing site at the Yvonne B. Miller High School campus to encourage youth to obtain a driver's license upon release to the community. Eligible youth can take the knowledge portion of the driver's education test and, upon completion, receive a learner's permit prior to release.
Family Engagement -- The Family Engagement Committee was formed to examine current issues in the department's interactions with the families of court involved youth, and to consider better ways to communicate and provide support. As we better understand each other, we have developed practices that have strengthened our shared commitment to our youth.
For more information about these services contact Reentry Coordinator, Melissa Smith at (804) 921-4150 or melissa.smith@djj.virginia.gov.